Behind the knitting....
We make chunky knitted beanbag chairs, cushion and blanket designs suited to every home, selecting premium materials to work with that will be sustainable and hard wearing. My aim was to make a beanbag that still looks beautiful in the home that also came in an Adult size! I work alongside two hand knitters who spend their days knitting away to bring premium hand knitted products to your home.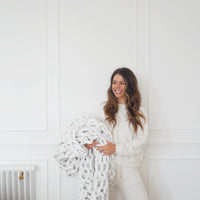 Our latest blog post
My tried and tested recommended eco filling alternatives for our beanbag cases and covers.
My top five